Wow! I can't believe it's been a year since I began this journey. I am so thankful for each and every one of you. I have a week of fun things planned, so check here and my Facebook page daily to know what is happening for the day. I hope you enjoy!
Would you like to know the prizes?
$25 to spend in my TPT Store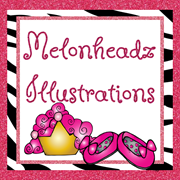 $7 Gift Certificate to Melonheadz Illustrating.
$10 iTunes Card
$10 gift Card to Target
Enter Below, but keep reading after you enter!
a Rafflecopter giveaway
Hopefully you are still with me. Be sure to check my
Facebook page
each day this next week for the daily deal. One item in my TPT store will be marked half off.
Wait! There is more! This is a party week, so there definitely should be some freebies involved. Click below to get your first freebie!
My kids love these, I thought this one would be fun to send home as a gift for each students or, as a family to home connection activity in a birthday bag. Enjoy!